Regular price
Sale price
$17.00 USD
Unit price
per
Sale
Sold out
Custom DIY Strategy Model Builder - Stratahedron Builder 2-Page Canvas Worksheet (A3 Size) - Instant Download Version
Learn how to craft your very own strategy, with the unique tool that gives you full creative control over how your strategy fits together.
Often times strategy canvases give you a framework that you must follow, like filling out a form. There is little room to be creative, or to see how everything sits and fits together, for your business. This is the ultimate tool to think how it all fits together, see the pieces fall in place, and gives you the ability to craft a truly visual strategy, for creative professionals and entrepreneurs.
It's like the traditional Business Model Canvas, but much more creative.
This is the ultimate visual Agile Strategy design tool to give you the ability to craft a truly visual strategy, for creative professionals and entrepreneurs. 

Full-sized A3 PDF worksheet you can print to see the full concepts and capabilities of the AMPS strategy model (Audience, Method, Process, Story), and how it can be applied precisely to your business. 
Once downloaded & printed, on page 1 cut out the AMPS model as a template and then fold it into a 3D tetrahedron strategy model - the Stratahedron. See how the structure of your business can be built upon this simple strategy model framework. Then on page 2, flip it over and you can design and craft your own custom strategy model.
This is like the business model canvas, but gives you an output that is highly intellectually & visually flexible, creative, and shows how all of the different elements of your business strategy fits together, in a simple model that you can then see, touch and feel, showing you how everything in your model interacts directly with your business. There is no other strategy tool like it that gives you this level of a strategic visual of how your business works. 
This Instant Digital Download PDF Version combines the 2 complete worksheet pages, so you will have everything you need to get started.
Page 1: The AMPS model and instructions. Cut this model out and fold it into your own strategy shape so you can see how the Audience, Method, Process, and Story Model works for you.
Page 2: DIY & Build your own strategy model. Answer the questions to help you form the strategy structure that is important to you, then place your elements on the blank "stratahedron", cut out and fold to create your own 3D strategy model. 
Now's the chance to get creative with your strategy. This is how you bring together your ideas and insights, into a working model that you can see, touch & feel. It's a sensory experience when you can hold the final strategy model in your hands, pass it to your clients, or work with your team in crafting and building them for you or your clients. It is the newest and best tool for a consultant's toolkit, as well as for creative entrepreneurs, strategy consultants, strategy trainers, and strategists who want to be able to express their ideas and insights in a new and unique, and visual, tactile manner.
It's a DIY - Do It Yourself business strategy model builder that you can create and customize exactly the way that fits your business. 
Instant downloadable PDF is A3 in size:
| | |
| --- | --- |
| 297 x 420 mm | 11.7 x 16.5 inches |
Recommend to print on thicker paper, such as 170 gsm / 65 lb
This is an amazing tool to be able to create, design, and craft your own business strategy, or problem-solving template for you or your clients. It's designed to help you see different perspectives around your strategy, and perfect for the creative entrepreneur, business, strategy consultant, strategy trainer, or strategist.
Get started on your new perspective on strategy for business, and how you can best solve your challenges with a simple, visual model that is super-sensory, in that you can see, touch and feel as you create and craft you new strategy.
You've never seen a strategy model like this before that is a 3D visual 'festival' of all of your business concepts into one, precise & concise model.
Share
View full details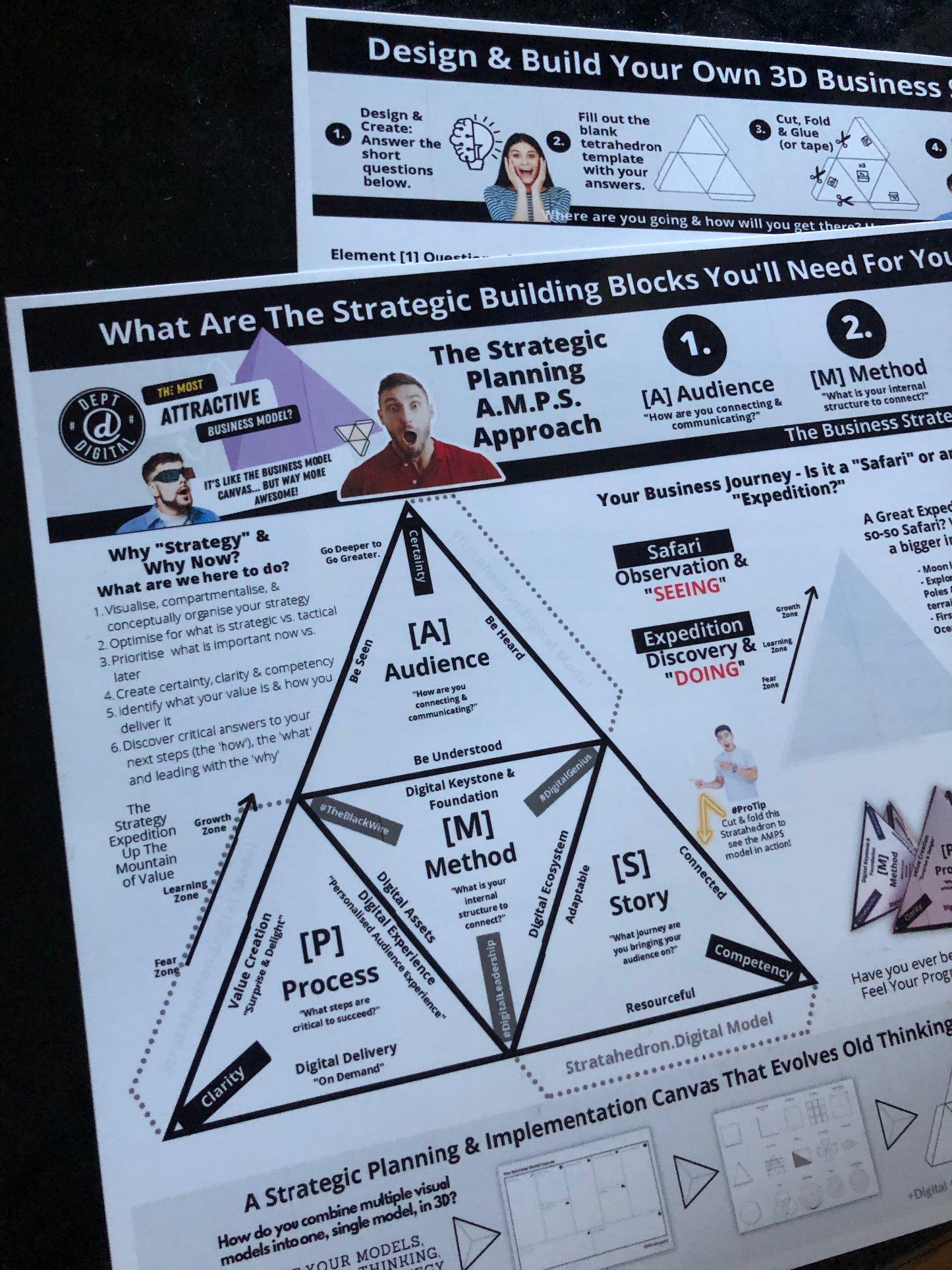 Upcoming Strategy Events
Stay ahead of the curve to get some details business strategy training. Take a look at our upcoming events.
Collapsible content
DETAILS OF STRATEGY THINKING

Get the latest strategy planning gear and strategic thinking training to get you there.
STRATEGY TIPS

Be the life of the strategy session with these one-of-a-kind strategic thinking and strategy planning tools. Learn how to brainstorm, craft & create agile strategies.
SHIPPING

Direct shipping to you & on-demand printing to save resources. Most strategy products also available as a quick, fast & easy digital download.