Regular price
$407.00 USD
Regular price
Sale price
$407.00 USD
Unit price
per
Sale
Sold out
Get the pulse of where you're at and what is truly important at this stage in the game. We always have to make decisions; this is where you can better define what needs to be done. 
Find the true working state of your business, and what you need to create and craft your winning strategy, and decide what strategy or refinement of your current strategy would be most effective.
We would start with:
Discovery or 'expedition' phase to map out what we're thinking, what's important, what's not, where we are, and where we need to go, then;
Progress into the 'how' with details of the roadmap, testing & experimenting;
Execute and full roll-out with some new ways of thinking & doing and a full team press forward;
Radar & Roadmap development to see your full way forward
Using the Strategystorming methodology, you'll come away with a diagnostic of where you're at, what needs to happen next as you build out your roadmap, and identify the gap that we need to get through with a roadmap/flightplan and execution. We'll also create your visual strategy model so you can see the structure of what needs to happen, next.
We run each strategy pulse check as a "100 Day Radar", so it gives us clear goals and objectives to accomplish for a specific amount of time. Why do we call it 'radar'? Because it allows us to see through the 'fog' and see the obstacles. This also prevents us from going off on tangents or just 'busy-work' to make us think we are doing something important
There are 3 sessions of 90 minutes (plus yes, homework).
We'll schedule the full sessions once booked.

Share
View full details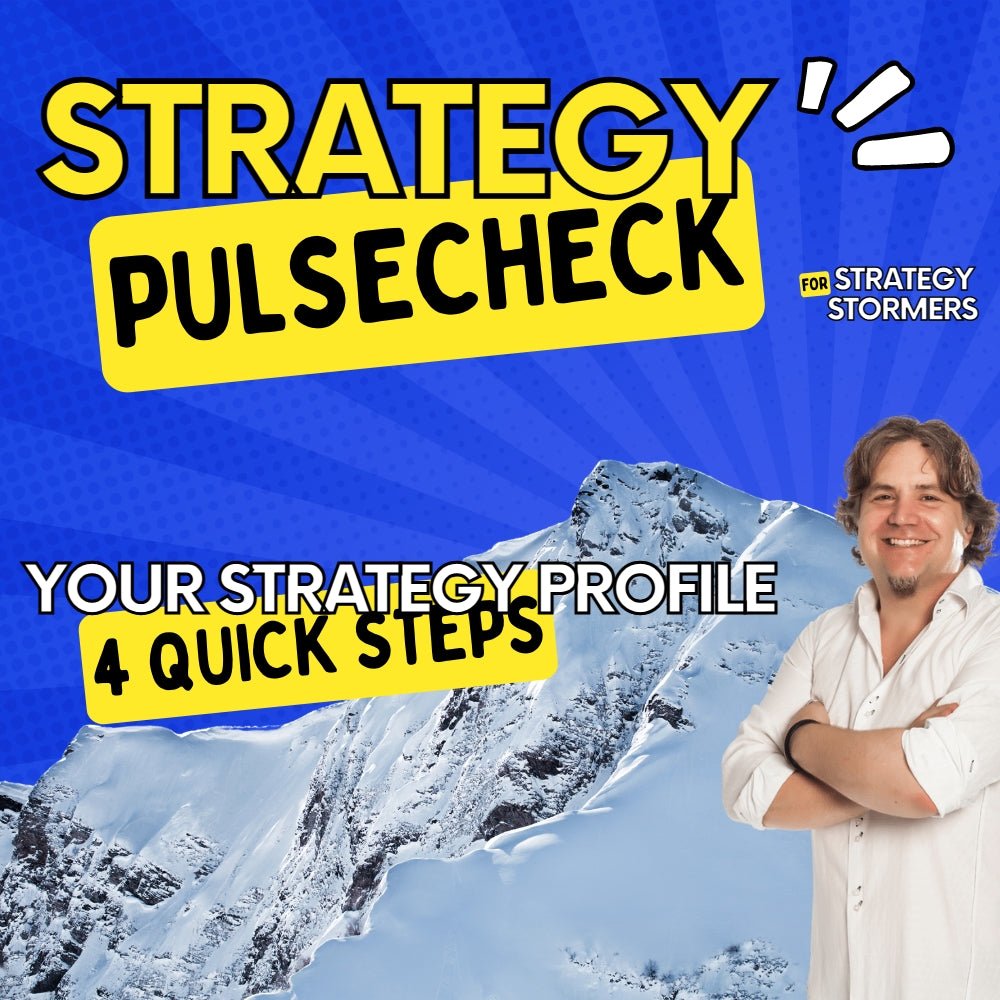 Upcoming Strategy Events
Stay ahead of the curve to get some details business strategy training. Take a look at our upcoming events.
Collapsible content
DETAILS OF STRATEGY THINKING

Get the latest strategy planning gear and strategic thinking training to get you there.
STRATEGY TIPS

Be the life of the strategy session with these one-of-a-kind strategic thinking and strategy planning tools. Learn how to brainstorm, craft & create agile strategies.
SHIPPING

Direct shipping to you & on-demand printing to save resources. Most strategy products also available as a quick, fast & easy digital download.